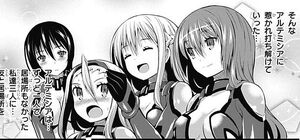 The Special Sorcery Service, also known by the abbreviation of SSS, is the British equivalent of Japan's Anti-Spirit Team. They were first mentioned in the spin-off manga series of Date A Live, Date AST Like.
The organization is based in London. So far in the series, five members were already named with the three hijackers being Ashley Sinclair, Leonora Sears and Cecile O'Brien. Later on, one of the world's top Wizards, Artemisia Bell Ashcroft was revealed to be a member of SSS and also their ace member. She left them for DEM, hoping to bring the world peace through the company's immense technology. Lastly, another member, Minerva Riddell, said to be second to Artemisia in the SSS, also joined DEM.
Special Sorcery Service
Edit
Known SSS Members
Edit
Former SSS Members
Edit
Ad blocker interference detected!
Wikia is a free-to-use site that makes money from advertising. We have a modified experience for viewers using ad blockers

Wikia is not accessible if you've made further modifications. Remove the custom ad blocker rule(s) and the page will load as expected.