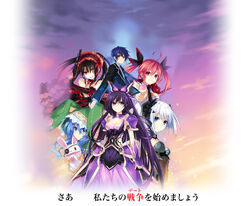 Date A Live (デート・ア・ライブ Dēto A Raibu) is the anime adaption of the Japanese light novel series, Date A Live. It is directed by Keitaro Motonaga and produced by AIC PLUS+. It began streaming on Niconico on March 31 and started being broadcasted on TV on April 6, 2013.
The opening theme is titled Date A Live sung by Sweet ARMS, a group consisting Iori Nomizu, Misuzu Togashi, Misato & Kaori Sadohara. The ending theme for episode 1 is titled "Hatsukoi Winding Road" sung by Ririko (voiced by Kayoko Tsumita), childhood friend (voiced by Risako Murai), and upperclassman (voiced by Midori Tsukimiya), the characters from Date A Live in-universe galge, Fall in Love: My Little Seed. For episode 2 and 3 and onwards, the ending theme is sung by Iori Nomizu titled "Save The World" and "Save My Heart" respectively.
The OVA of the anime's first season is released along with Light Novel Volume 9.
A second season of the anime (titled as "Date A Live II" or "Date A Live 2") is set to be aired in April 2014.
Season 1: Episode List
Edit
No.
Title
Romaji/Kanji Title
Original airdate
Episode 01
April 10th

Shigatsu Tooka

四月一〇日

March 30, 2013 (Premiere Airing) April 7, 2013 (Scheduled Airing)

Episode 02
Close Re-Encounter

Sai-Sekkin Souguu

再接近遭遇

April 6, 2013
Episode 03
Sword That Splits the Sky

Sora Wakatsu Tsurugi

空分かつ剣(つるぎ)

April 13, 2013
Episode 04
Unhappy Rain

Fukigenna Ame

不機嫌な雨

April 20, 2013
Episode 05

The Freezing Ground

Itetsuku Daichi

凍て付く大地

April 27, 2013
Episode 06
Hot Springs of Love

Koisuru Onsen

恋する温泉

May 4, 2013
Episode 07
The Visitors

Raihōsha-tachi

来訪者達

May 11, 2013
Episode 08
Triple Frenzy Tune

Sanjuu Kyōsō Kyoku

三重狂騒曲

May 18, 2013
Episode 09
Raging Nightmare

Kyōran no Akumu

狂乱の悪夢

May 25, 2013
Episode 10
Spirit of Flame (Efreet)

Honoo no Seirei (Ifuriito)

炎の精霊(イフリート)

June 1, 2013
Episode 11
Countdown

Kauntodaun

カウントダウン

June 8, 2013
Episode 12
Inalienable

Yuzurenaimono

譲れないもの

June 15, 2013
Episode 13/OVA
DATE TO DATE
December 9, 2013
Season 2: Episode List
Edit
The series had a stream on niconico prior to TV broadcast.
External Links
Edit